Wega Arts
Creating new works in Wisconsin
<!=========list Template=========>
Wega Arts will again be hosting the Waupaca Rotary International Dinner at the Gerold Opera House! Tickets are $25 and include an Italian Dinner. TICKETS
Find out more »
A music-jammed evening with proceeds benefitting the Bethany Crystal River Walking Trail. Central Wisconsin's very own – MoJoe & Flipside headlines the night's entertainment. Funky-Blue Americana best describes their style of music. Featured musicians are Joe Fittante, Jim Prideaux, Tony Wagner, Charlie Sauter & Bill Jordan. $25 ADVANCE TICKETS ($30 after April 3rd). Tickets available […]
Find out more »
Wega Arts and Prof. Pinkerton presents 'Yesterday Is Here' a live music circus tribute show to Tom Waits. Featuring original arrangements and story line inspired by his compelling characters and dreamlike lyrical themes. Featuring... Human oddites, Fire eating, Stage illusions, Aerial dance, Feats of strength, Sulty striptease, Circus sideshow, Puppetry, Comedy, Bubbles, and 6 musicians […]
Find out more »
Wega Arts' core mission is to develop original plays, films, and musicals.
WIFF
Annual festival with films from all over the world. Filmmakers/discussions/parties. Prizes given in five categories.
Community events
Prom, high school band, Rotary, and weddings all are well served by the beautiful venue.
Theater Workshops
Theater games, playwriting, acting, and stagecraft.
Film Workshops
projects with youth participation as actors and crew. Skills learned are useful paths to innovation and to media careers.
Creating new Theater Film & Musicals
Developing complete new plays, films and musicals.
Preserving the Gerold Opera House
Maintaining the 100 plus year old building and its historical significance to the community.
The short film Heroes Rising was produced by the Wega Arts Organization & Helios Recovery in 2016. The theme of the film is centered around a group of resilient kids, each drawing on their own inner superhero to fight the heroin/opioid epidemic. The movie is a tool that can bring kids and adults together to have a meaningful and constructive dialogue about substance abuse. The film was made by teenagers working alongside professional filmmakers in Weyauwega, Wisconsin.
Our goal is to show HEROES RISING at every middle school in Wisconsin.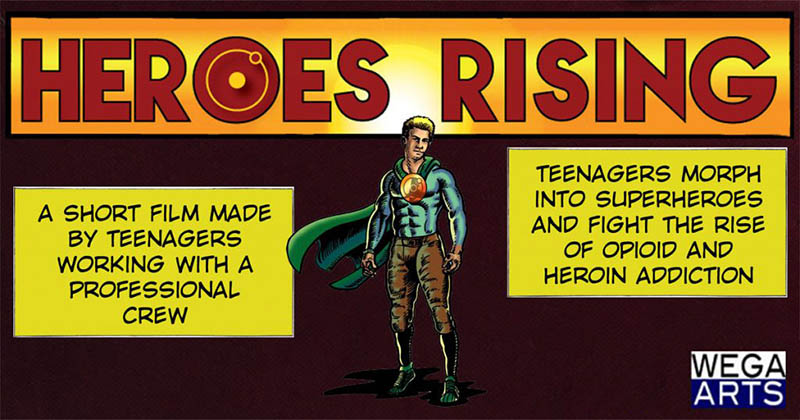 The generosity of our donors directly translates to exciting and educational programs for our community and our local youth. As a nonprofit organization, Wega Arts thrives only with the support of our donors. You can learn more about impacting the arts in Wisconsin by donating to Wega Arts.