History of the Gerold Opera House
George Gerold built the opera house in 1915 and operated it until 1932 when he suddenly passed away. At this time, Mrs. Clementina Rief Gerold had the Winninger Brothers run it for her. 
After two years they left town and left a lot of people bitter because they didn't pay their bills. Mrs. Gerold's nephew, William Peterson took over the theater for his Aunt. He eventually purchased the theater from her and in 1942 he and his family moved into the theater.
They built an apartment in the lower half of the building on the westside. The front room was Dennis's and had a big Lionel Train setup in the corner. Whenever the film distributors would come by they would have to play with the trains before they would talk business.
Dennis said that whatever happened in town happened at the theater. A governor had spoken there once. They had weddings, dances, auctions as well as movies. The large room on the left facing the sidewalk was the concession area up until the sixties and then the Petersons ran an ice cream store and sold Cedar Crest Ice Cream.
It was last used as an attorney's office but it is now restored and reopened as the Wega Arts Gallery. In the large room downstairs on the east side, a bar was operated during the 1920's. Is was called the Jungle Room.
Since purchasing the Opera House in 2007, we have been able to achieve quite a list of repairs and improvements. We would like to keep the Opera House as original as possible and fortunately, most is still in its original state. We are in the process of establishing the building on the state and national Historical Registers. We have much work yet to do and any help is greatly appreciated.
Now that we have reopened the building after almost fifteen years, people have come to our open house and other events and told us about their first date and where they sat, or that they used to have school lunch downstairs (for some years the school cafeteria was in the opera house); one gentleman told us that he used to take tickets and that the last movie he took tickets for was Gone With The Wind! There are many stories.
Help Preserve This Historic Building
The Gerold Opera House has impacted our community for generations. With your generosity, we can ensure it will impact many more generations. Help us preserve this historic building, its memories, and it's bright future.
Make Your Event Memorable
Rent the Gerold
The Gerold Opera House is a charming place to hold your event!
The Gerold can seat up to 250 for dinner and over 300 for concerts and events. The Gerold features a full bar. Above all, it has a charm only historic buildings possess.
Contact Us to learn more about hosting your event at the Gerold.
We Host
Weddings
Concerts
Movie Screenings
Banquets
Dances
Birthday Parties
And More…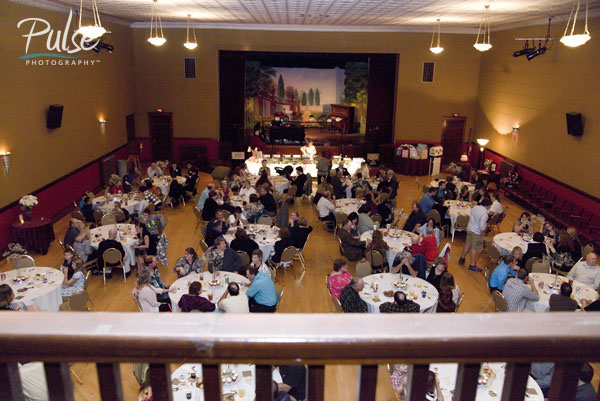 Contact Us About Your Event